Landscapes and Landscape Lighting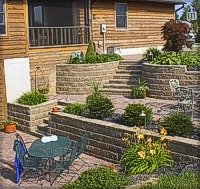 No water feature or hardscape is complete without plants to soften the environments and blend them into the surrounding area. Sulina Farm can work with your ideas or design from scratch the perfect landscape for your space.
By incorporating hardscapes, lighting and water features, your complete landscape project can become a great feature for your home or office. Add lighting to a new or existing landscape for subtle highlights and evening enjoyment.