Extreme Pond Build
Sulina Farm -- participant in the world's most Extreme Pond Build
Imagine having a water garden 250 feet long and 90 feet wide with a waterfall grotto large enough to walk behind. How about a pond that contains over 130,000 gallons of water and boulders weighing up to 80,000 pounds (thats 40 tons)!
Aquascape Inc., as part of its overall plan to keep on the leading edge in water garden technology, constructed the largest water feature on the North American continent in July 2008 in St. Charles, Illinois. Because Sulina Farm is one of the six CAC (Certified Aquascape Contractors) in Indiana they were invited to help and earn education units that will allow them to maintain their renowned status as CAC.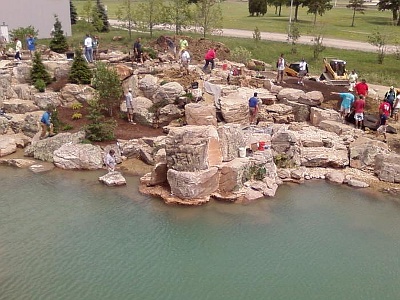 This year Terry Mays and Travis Schmid (aka Chops) were selected to represent Sulina Farm. Their duties included: construction of the waterfall, 5,000 to 20,000 lbs of boulder placements, bog installation, rock and gravel edging, and building the waterfall cave. Terry and Travis were taught more on the new Rain Water Harvesting program due for its debut later this year. This harvesting system allows for water to be captured, filtered, and reused later at home and combines water features and water conservation.
Other items of interest were: Permeable patios, Modular Outdoor Kitchens and Green Roof tour.